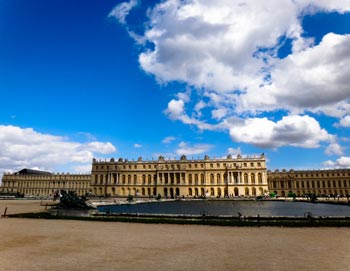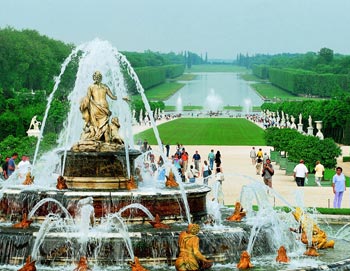 Versailles: Skip the line & audio guide - 4 hours
Obiščite Versaillesu Palace (z zvočnim vodnikom) in njene čudovite vrtove na svoje!

To je povraten iz Pariza v Versailles Palace s prevozom, ki ga razkošje in klimatiziranih trenerja!

Od 1661, Louis XIV zgrajena, kar je postal najprestižnejši prebivališče vseh sodiščih v Evropi s svetovno znanih arhitektov in notranjih oblikovalcev, kot so Le Vau, Mansart in Le Notre za vrtove.

Za povečanje vašega obiska, vam nudimo posebne zvočne posnetke, ki pojasnjujejo različne vidike življenja v Versaillesu med vladavino Ludvika XIV, za "Sončnega kralja. »Trakovi v trenerju vam bo pomagal načrtovati svoj prosti čas za obisk gradu in vrtov.

Tvoja vstopnica (vključen) vam dostop na svoje, da: Kraljevi Apartmaji, Hall of Mirrors, The Dauphin in njegove žene Apartmaji & Gallery of Battles.

Avdio vodnik bo na voljo v devetih jezikih vklj .: francoski, angleški, nemški, španski, italijanski, portugalski in Japonski.

Opomba: vstopnice na Versailles Gardens (8 €) ni vključen v ceno vozovnice, vendar je treba plačati na kraju samem!

Trajanje: 4 ure.

Odhod Times: 8:15 / 8:45 ali 2:00. Prosimo, da se pri izhodišča vsaj 20 min. pred začetkom.

Sightseeing Versailles / Versailles Vision začne in konča pri 2, Rue des Pyramides, 75001 Paris!
Book now
Very Good:
3.9
– 62

reviews
Refundable tickets Refundable tickets
Refundable up to 48 hours before performance date. A cancellation fee of up to 20% pr. ticket may apply
What's included?
- Skip the line-ticket to the Versailles Palace.
- Transportation from Paris to Versailles - and vice versa.
- An audio guide.
Navodila
Versailles: Guided tour w. skip the line
English helpdesk

+44 20 3870 3444
Need help with your booking? We will gladly answer your questions.