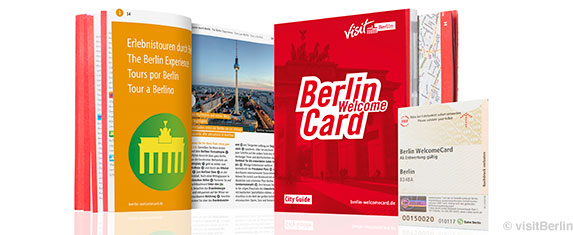 Refundable tickets

Price Match Promise

Bestseller









Berlin WelcomeCard
Berlin WelcomeCard je (skoraj) vse, kar potrebujete ob obisku Berlin. Berlin WelcomeCard vam daje neomejeno javni prevoz (cona AB ali ABC) in velike popuste za več kot 200 muzejev, vodeni izleti, restavracije in dobrega počutja.
Kaj je vključeno?
- Neomejeno uporabo javnega prevoza (S + U-Bahn, avtobus, tramvaj, lokalni vlak)
- Izbirate lahko med 48, 72 ur ali celo 4,5,6 dni
- Travel znotraj cone Berlin (AB) ali Berlin Potsdam + (ABC)
- Otroci, mlajši od 6 let, se lahko svobodno
- 25-50% popust na več kot 200 muzejev, znamenitosti in restavracije
- Priročen žepni vodnik
- Izvlecite načrt mesta Berlin + Potsdamu
Izberite Berlin WelcomeCard
Izbirate lahko med 48 ur, 72 ur na dan, 5 dni ali Museum Island 72. uro Berlin WelcomeCard bodisi Berlinu (cona AB) ali Berlinu in Potsdamu (cona ABC).
Oglejte si zemljevid območij
TUKAJ!
Berlin WelcomeCards cona AB so vaild za eno odraslo osebo.
Berlin WelcomeCards zone ABC so vaild za eno odraslo osebo + max. 3 otroci (do 14 let).
Museum Island WelcomeCards vključuje tudi prost vstop v vse muzeje na Muzejskem otoku (Museumsinsel) v treh zaporednih dneh. Nekatere posebne razstave so izključeni. Brezplačna informativna brošura je na voljo v 5 jezikih (angleški, nemški, italijanski, španski in francoski).
Ali obstaja popust za otroke?

Ne, ampak stari otroci od 6-14 let potovanje brezplačno skupaj z odraslo osebo Berlin WelcomeCard s cono ABC. Otroci, mlajši od 6 let, so brezplačne, ko potujejo z odraslo osebo, ki ima bodisi plačilni vrsto kartice.

Kako dobim vstopnice?
Kmalu zatem, ko je vaša rezervacija končana, se bo vaš e-ticket poslati neposredno v vaš e-poštni naslov. Samo ga natisnite in prinesite katerokoli več obiska Berlin uradih po Berlinu in na letališču, kjer si jo izmenjali vaše berlinskega WelcomeCard.
Oglejte si, kje so uradi za obisk Berlin
TUKAJ!
#mce_temp_url#
Ticket categories
Child tickets are free: 0-6 years unlimited, 6-14 years max. 3 children. Please choose ticket number first, then zone and duration. Price depends on selected zone and duration.
Adult (15+)
Opening hours
Vaš Berlin WelcomeCard velja bodisi za 48 ur, 72 ur ali 5 dni.
Book now
Fantastic:
4.6
– 286

reviews
Refundable tickets Refundable tickets
Refundable up to 48 hours before performance date. A cancellation fee of up to 20% pr. ticket may apply
Price Match Promise Price Match Promise
If you find a better price for this product within 48 hours of completing your booking, we will refund the difference in price in full.
Opening hours
Vaš Berlin WelcomeCard velja bodisi za 48 ur, 72 ur ali 5 dni.
What's included?
- Unlimited use of public transportation in either fare zones Berlin AB or zone ABC.
- Card valid for either 48 or 72 hours - or 4, 5 or 6 days.
- Up to 50% discount at over 200 attractions, museums, restaurants and more.
- A pocket guide with tour suggestions and a city map.
- Bring up to 3 children of the age of 14 and under - they travel free of charge.
English helpdesk

+44 20 3870 3444
Need help with your booking? We will gladly answer your questions.