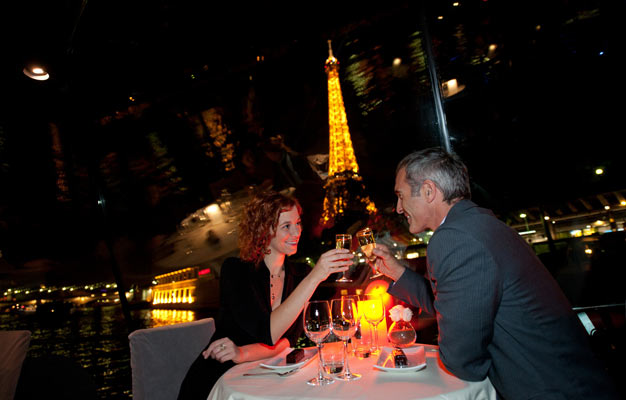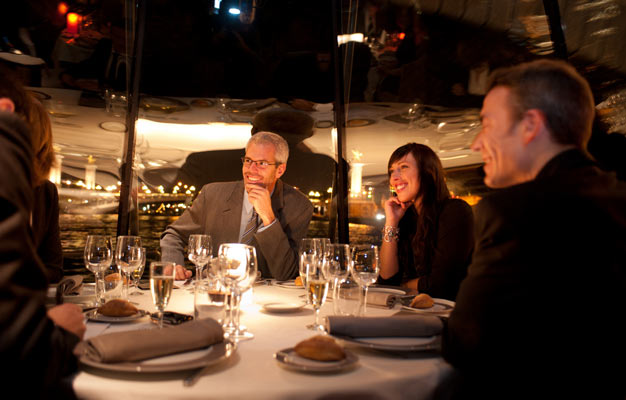 VIP Dinner Cruise at 8:30 PM
Končni večerja doživetje! Vkrcanje na ladjo s steklenim dnom in živeti tako kot Parižani za zvečer. Gledam luči iskrico v pariški ponoči in uživajo slasten obrok in visoko kakovostne storitve.
Kupite "Paris Illumination" Večerja Cruise vstopnic tukaj!
Oglejte si pot z ladjo tukaj:
Paris Illuminations večerjo križarjenje pot
Pariz Illuminations večerjo križarjenje ponuja a la carte menu je sestavljen iz aperitiv, predjed, glavna jed, sladica, voda, kava in izbranimi vini. Hrana je pripravljena na krovu.
Rezervirate lahko 4 različne vrste vozovnic:
Service Etoile:
Sedeži s panoramskim pogledom, 3 hodi, izbrana vina, vodo in kavo.
Elegance:
Sedeži blizu oken, 3 hodi, izbrana vina, vodo in kavo.
Privilege:
Window sedeži, 3 hodi, izbrana vina, vodo in kavo.
Service Premier:
Sedeži po najugodnejših mizah pred čoln, prvih privilegijev internatih, 3 seveda večerja, izbrana vina, vodo in kavo.
Preberite si več o
meni večerjo in vina tukaj

Vživite se v nekaterih pariških skrivnosti. Dobrodošli na krovu!
Spored:
Odhod dnevni 08:30 in traja 2 uri in 30 min. End of tour pribl. 11:00.
Opomba:
Prihod pomola št. 7 na pariškem BATEAUX jih vznožju Eifflovega stolpa najkasneje do 20:15.
Otroci:
Otroci, mlajši od 12, se štejejo otrok. Na 13 let, pa velja za odrasle.
Dress code:
Tie, obleke ali obleko niso obvezni. Casual in poslovno športna bo naredil. Kavbojke, kratke hlače, Snickers in potenje niso dovoljene.
Kajenje:
Vse jadrnice so 100% brez kajenja.
Opening hours
Bodite na BATEAUX Parisiens, ki se nahaja ob vznožju Eifflovega stolpa najpozneje do 08:15. Čoln izpluje 20:30 in traja 2½ uro.
Book now
Fantastic:
4.6
– 175

reviews
Duration: 2 hours 30 minutes
Departure times
Be at Bateaux Parisiens, located at the foot of the Eiffel Tower no later than 8:15 PM. The boat departs at 8:30 PM.
Navodila
VIP Dinner Cruise at 8:30 PM
Address
Bateaux Parisiens, Port de la Bourdonnais 75007 Paris
English helpdesk

+44 20 3870 3444
Need help with your booking? We will gladly answer your questions.