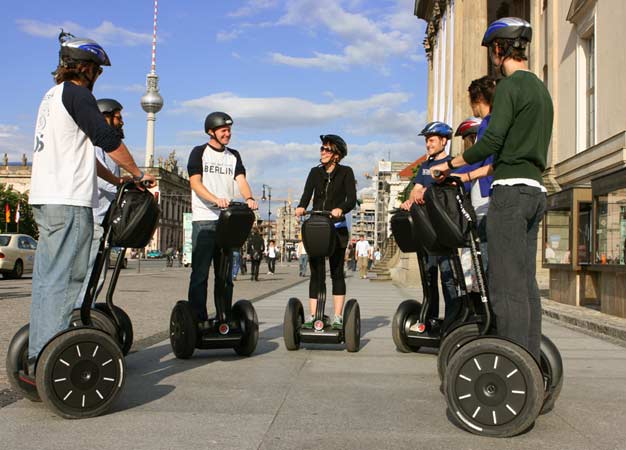 Berlin Segway Tour
Uživajte v Berlin iz Segway, najboljši in najbolj zabaven način za raziskovanje Berlin, in to še ni vse zabavno, boste izvedeli veliko o glavnem mestu Nemčije, kot tudi. Vstopnice za Berlin Mesto Segway Tour lahko rezervirate tukaj!
Pri približno 3 - 3½ ure na naši
All-In-One Mesto Segway Tour
vam bomo pokazali vse glavne znamenitosti Berlina, ustavljanje na vsakih nekaj sto metrov, da jih namakate v, bomo slišali nekaj zanimivih anekdot, fotografirate, in razpravljali o zgodovini Berlina. Vaše dobro materni angleško govoreči vodnik vam bo razložil tudi današnjih dejstev in vidikov življenjskega sloga, o Berlinu, medtem ko so na voljo za odgovore na vaša vprašanja.
Boste videli in slišali vse o
berlinskega zidu
in sprehodom po
Checkpoint Charlie.
Boste Stand na vrhu
Hitlerjevega bunkerja
in videli
Reichstag
in slišal o gorenju, ki na koncu pripelje do porasta Hitlerjev prihod na oblast. Ob Segway vožnjo boste tudi videli in slišali
Brandenburg Tor, Marx in Engels Platz, Postdamer Platz, Unter den Linden "Deathstrip"
da delimo vzhod in Zahodni Berlin,
Berlin Statsoper
in veliko, veliko več.
Pomembne informacije:
- Vse ture so v angleščini
- Trajanje je 3 do 3 ½ ure, vklj. 30 min. usposabljanje.
- Nosečnice in osebe, mlajše od 15 let NE MOREJO sodelujejo na tej turneji, in dokazati starosti mora biti prikazana na zahtevo!
- Udeleženci morajo tehtati med 45 kg in 115klgs k sodelovanju na tej turneji!
-Vse Udeleženci morajo lastniki licence moped ali dovoljenje za voznika!
- Moraš plačati depozit v višini 200 EUR, - vsako rezervacijo (NOT oseba) neposredno vodilo pred turnejo začetku, bodisi v denarju ali kot depozit s kreditno kartico, in to vam bo povrnjen nazaj k tebi na koncu turneje , ki zagotavlja vaš Segway je utrpela nobene škode!
- Prosim nositi oblačila glede na vreme in ravno obutve Segway funkcije deluje bolje z ravnimi čevlji kot visoke pete. -Berlin Segway Tours se začne in konča na TV stolp, Alexanderplatz v Berlinu.
Ticket categories
Can children participate?
No, children under age 15 are not permitted on this tour. Participants must be at least 15 years old.
Book now
Fantastic:
5.0
– 5

reviews
Refundable tickets Refundable tickets
Refundable up to 48 hours before performance date. A cancellation fee of up to 20% pr. ticket may apply
Duration: 3 hours 30 minutes
Navodila
Berlin Segway Tour
Address
Berlin City Segway Tour, TV Tower, Alexanderplatz, 10178 Berlin.
English helpdesk

+44 20 3870 3444
Need help with your booking? We will gladly answer your questions.