Refundable tickets

Expert guides

Small groups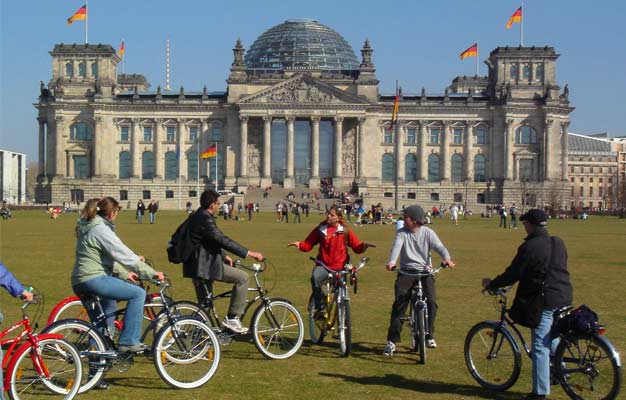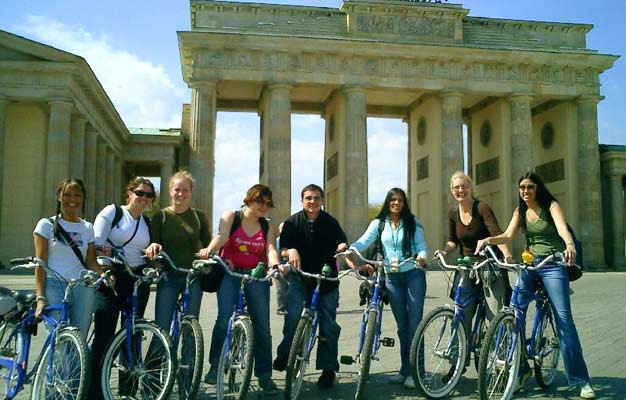 Berlin City Bike Tour
Naša All in One Berlin Mesto Bike Tour je odličen način za spoznavanje tega velikega mesta v eni turneji! Dobili popolno orientacijo Berlinu v preteklosti in danes - rezervirati karte za naše vse v enem Berlin Mesto Bike Tour tukaj!

V približno 4,5 urah smo pokrivajo le okoli 6 milj (10 km) in ustaviti vsakih nekaj sto metrov, da sprejmejo v znamenitosti Berlina. Ta turneja je ni težko in je primerno za vse starosti in vseh ravni telesne pripravljenosti, in je odličen način, da bi videli vse Berlinu!

Ta Tour vklj. po Berlin Highlights, ki bo pojasnil, naš vodnik in obravnaval vse v skupini: Berlinski zid, tretjega rajha v Berlin, pruski Berlin, Brandenburger Tor, Marienkirchen, Marx & Engles Platz, Hitlerjev bunker, Potsdamer Platz, " Deathstrip ', ki razdeli vzhod in Zahodni Berlin, Checkpoint Charlie, Spomenik umorjenim Judom Evrope, Reichstag in še veliko, veliko več!

Ustavili se bomo na kosilu v pivski vrt v parku Tiergarten. Malica in pijača za kosilo NI vklj. V ceno vozovnice!

Ker je zelo veliko mesto, in tudi zelo flat Berlin, Berlin je kot nalašč za ogled na kolesu. Torej, pridružite naši vse v enem Berlinu Mesto kolesom in si oglejte, Berlin na najboljši način - na kolo!

POMEMBNE INFORMACIJE:
- Vse ture so v angleščini
- Trajanje pribl. 4 ½ ure
- Urnik: 1 marec - 30. april: vsak dan ob 11.00 uri. 1 maj - 30. september: vsak dan ob 11:00 in 16:00. 1. oktober - 30 november: vsak dan ob 11.00 uri. 1 december - 28. februar: sre & Sat ob 11:00
- Hrana in pijača na kosilo ni vklj. v ceni
- Tour deluje dež ali sijaj, zato prosimo, da nosijo oblačila glede na vreme. Lahko najamete dež ponči na voljo iz vodila od 1 € vsaka!
- Otroci morajo imeti možnost, da kolesa svoje kolo za sodelovanje na tej turneji!
- Vse v enem Berlinu Cityju Bike Tour se začne in konča na TV stolp na Alexanderplatz v Berlinu.
Refundable tickets Refundable tickets
Refundable up to 48 hours before performance date. A cancellation fee of up to 20% pr. ticket may apply
Duration: 4 hours 30 minutes
Navodila
Berlin City Bike Tour
Address
Berlin Fat Tire Bike Tours, TV Tower, Alexanderplatz 10178 Berlin
English helpdesk

+44 20 3870 3444
Need help with your booking? We will gladly answer your questions.