Refundable tickets

Expert guides

Small groups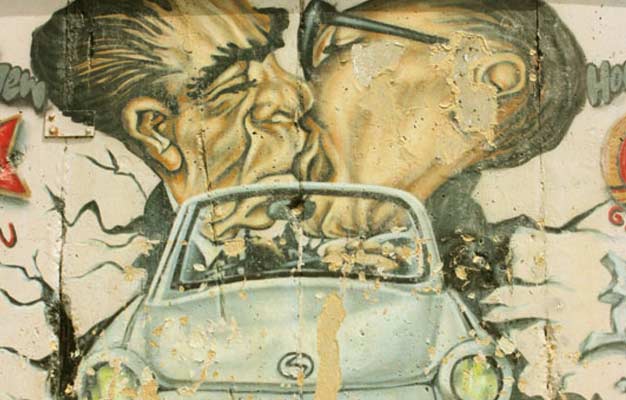 Berlin Wall and Cold War Bike Tour
Naš berlinski zid in hladne vojne Bike tour vas popelje v temnejšo stran zgodovine v Berlinu. Ta 5 ur kolo cca. dolžina 14 km turnejo po Berlinu vam pokaže, kako je Berlinski zid in hladna vojna je imela velik vpliv na Berlin. Rezervirajte vstopnice tukaj!

Naša Berlin Wall & Cold War Tour vodi vzhodno vzdolž mogočnega Karl-Marx-Allee, preden sprejmejo v pisani East Side Gallery (kilometer dolg odsek še vedno stoji zid, ki slovi po grafiti) in zmogljivo Treptower Park Memorial (More od 3200 so padle sovjetske čete pokopan tu in olajšave obloge spomenik so najboljši od stalinistične propagande je izven utrjenih turističnih poti -. še precej dostopna s kolesom). Od tam se bomo vrnili skozi Nekdanjo nikogaršnji kopnem deathstrip obiskati nekdanje kontrolnih točk in slišali zgodbe o vohunstvu in poskuse pobega. Postaviti hladne vojne v perspektivi bomo Timeline druge pomembne svetovne dogodke pokazati, kako jih učinkovito dal Berlin na čelu hladne vojne napetosti.

Mi odmor za kosilo v prijetni kavarni v ostankih stare železniške postaje, razdeljenih po zidu. Malica in pijača za kosilo NI vklj. V ceno vozovnice!

Ker je zelo veliko mesto, in tudi zelo flat Berlin, Berlin je kot nalašč za ogled na kolesu. Torej, pridružite naši Berlinski zid & Cold War Tour in videli Berlin od najboljši način - na kolo!

Pomembne informacije:
- Vse ture so v angleščini
- Trajanje je approx.5 uro
- Delovni čas: april-oktober .: pon, čet In sob ob 10:30
- Hrana in pijača na kosilo ni vklj. v ceni
- Tour deluje dež ali sijaj, zato prosimo, da nosijo oblačila glede na vreme. Lahko najamete dež ponči na voljo iz vodila od 1 € vsaka!
- Otroci morajo imeti možnost, da kolesa svoje kolo za sodelovanje na tej turneji!
- Berlinskega zidu in koncu hladne vojne Bike Tour se začne in konča na TV stolp na Alexanderplatz v Berlinu.
Book now
Fantastic:
4.8
– 6

reviews
Refundable tickets Refundable tickets
Refundable up to 48 hours before performance date. A cancellation fee of up to 20% pr. ticket may apply
Navodila
Berlin Wall and Cold War Bike Tour
Address
Berlin Fat Tire Bike Tours, TV Tower, Alexanderplatz 10178 Berlin
English helpdesk

+44 20 3870 3444
Need help with your booking? We will gladly answer your questions.