Refundable tickets

Expert guides

Small groups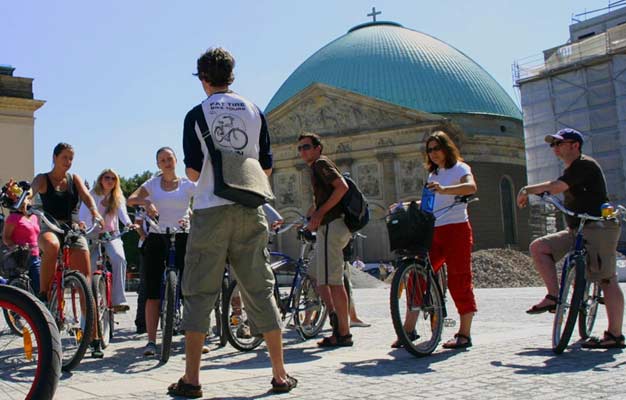 Third Reich Bike Tour
Naša Tretji rajh Tour Berlin raziskuje Berlin - enkrat prestolnici nacistične Nemčije. Boste med drugimi znamenitosti glej nekdanji židovski četrti Berlina, lokacije nacističnih bunkerjih in nacističnih spomenikov uporom. Rezervirajte svoje tour vstopnic tukaj!

Naša Third Reich Bike Tour je zelo "zelena" tour z veliko vožnja skozi parke. Mi relaxingly pokrivajo približno 14km (8 milj), na približno 5 ur. Do konca turneje boste razumeli okoliščine, ki so dovoljene za manijaka kot Hitler doseči oblast v Berlinu leta 1933.

Med izleta Bike boste spoznali in videli poudarke, kot so:
Kjer je bila med zloglasni Noč razbitega stekla, kot tudi monumentalne New sinagoge, ki je preživela, ki usodno noč uničena judovski podjetja.
Glej uničene ostanke Kaiser Wilhelm Spominska cerkev in Berlinu starega glavne železniške postaje, ki sta stojijo kot mračni opomnike za odškodnine za vojno.
Obiskom enega od redkih preostalih air raid zaklonišč, ki se uporablja v okviru bitki za Berlin!
Čast odporniških gibanj proti Tretjega rajha na 20. julij 1944 Memorial.

Ustavili se bomo za kosilo na primernem mestu ob progi, upajmo, da pri tipični Berlinu pivski vrt. Malica in pijača za kosilo NI vklj. V ceno vozovnice!

Ker je zelo veliko mesto, in tudi zelo flat Berlin, Berlin je kot nalašč za ogled na kolesu. Torej, pridružite naši Tretjega rajha Tour Berlin in videli Berlin od najboljši način - na kolo!

Pomembne informacije:
- Vse ture so v angleščini
- Trajanje pribl. 5 ur
- Delovni čas: april-oktober .: sre, pet In sob ob 10:30
- Hrana in pijača na kosilo ni vklj. v ceni
- Tour deluje dež ali sijaj, zato prosimo, da nosijo oblačila glede na vreme. Lahko najamete dež ponči na voljo iz vodila od 1 € vsaka!
- Otroci morajo imeti možnost, da kolesa svoje kolo za sodelovanje na tej turneji!
- Tretji rajh Tour Berlin se začne in konča na TV stolp na Alexanderplatz v Berlinu.
What's not included?
Is lunch included?
No, but we'll stop for lunch, hopefully at a typical Berlin Beer Garden.
Refundable tickets Refundable tickets
Refundable up to 48 hours before performance date. A cancellation fee of up to 20% pr. ticket may apply
Navodila
Third Reich Bike Tour
Address
Berlin Fat Tire Bike Tours, TV Tower, Alexanderplatz 10178 Berlin
English helpdesk

+44 20 3870 3444
Need help with your booking? We will gladly answer your questions.