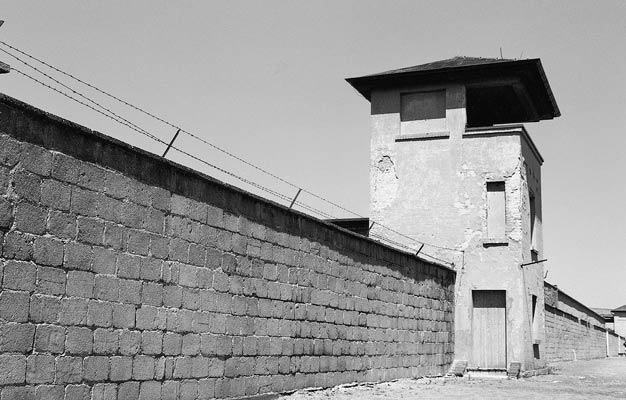 Sachsenhausen Walking Tour
Sachsenhausen Walking Tour zunaj Berlina je turnejo si bo zapomnil. Tukaj desettisoče umrlo v rokah nacisti med drugo svetovno vojno. Rezervacije vstopnic za Sachsenhausen Memorial zunaj Berlina tukaj.

Sachsenhausen postala poligon za SS in stran od sedeža celotnega sistema koncentracijsko taborišče. Ko so nacisti poraženi, so Sovjeti uporabili Sachsenhausen kot taborišče za svoje politične nasprotnike - več tisoč je bilo, da propade v naslednjih petih letih.

Naši usposobljeni vodniki bodo spoštljivo obravnavali naslednje teme o tem obisku Sachsenhausen:
Zakaj Sachsenhausen in sistem koncentracijsko taborišče, so bile določene z nacisti.
Kako razmere v taborišču poslabšalo leta 1939 (Obisk vojašnice, kjer veliko več tisoč judovskih zapornikov, poslanih v taborišča po tako imenovani "Kristalne noči").
Kako SS uporablja kompleks izvršitve na Sachsenhausen bi zagrešili dejanja množičnega umora, vključno z ubijanjem 10.000 sovjetskih vojnih ujetnikov leta 1941.
Kako nekaj judovskih zapornikov preživela z delom v delavnici pred ponarejanjem milijone britanskih funtih.
Kako so Sovjeti obrnil Sachsenhausen v posebnem taborišču za svoje sovražnike, po vojni, ki so v zaporu, in o usodi teh zapornikov.
In končno, kako vzhodnonemški režim manipulira zgodovino taborišča za svoje namene.

POMEMBNE INFORMACIJE:
- Tura je v angleškem jeziku.
- Trajanje je približno 6 ur vklj. vlakom za nazaj iz Sachsenhausen.
- Tura je na apr.-okt. .: to, čet, pet, in nedeljo ob 10:00. Nov-mar: tor, pet, in nedeljo ob 10:00.
- Tour se začne Zunaj Restaurant Weihenstephaner, Neue Promenade 5, 10178 Berlin. (Markt S-Bahn Station Opposite Hackescher)!
- Ker je ta organizator vklj. vožnja z vlakom, se vloži javni prevoz vstopnico ABC ali kupiti enega od vodnika (2013 Cena je 3,20 €).
- Cena Mladost je za vse stare pod 26 let.
- Otrok, starih manj kot 12 let, je brezplačen, če so skupaj s plačilnim odraslih.
- Tura je na dež ali sijaj! Zato vas prosimo, nosijo oblačila in obutev, glede na vreme!
- Ni hrane ali pijače, vklj. v ceno!
- Ker je malo možnosti za nakup hrane in pijače znotraj Sacsenhausen Memorial, vam svetujemo, da prinese nekaj s seboj.
- Naša tura Sachsenhausen Walking Tour konča na postaji Berlin Hauptbahnhof.
Ticket categories
Children under age 12 are free when accompanied by a paying adult. Youth tickets are available for people under 26 years old.
Opening hours
25. marca do oktobra, vsak dan ob 10.00. November - Marec: tor, pet, in nedeljo ob 10:00.
What's not included?
As there are limited possibilities to buy food and drinks inside Sachsenhausen Memorial, we advise you bring some with you.
Book now
Fantastic:
4.4
– 53

reviews
Opening hours
25. marca do oktobra, vsak dan ob 10.00. November - Marec: tor, pet, in nedeljo ob 10:00.
Navodila
Sachsenhausen Walking Tour
Address
Neue Promenade 3 10178 Berlin
English helpdesk

+44 20 3870 3444
Need help with your booking? We will gladly answer your questions.